The ants occur throughout the state of Washington and are the most common moisture ants in home structures. These ants frequently appear associated with rotting wood in houses. While several species may bring moisture into the wood structure to increase damage, the colony initially started in wood in an advanced stage of decay. Do not consider these ants a structural pest as the problem invariably existed before the colony was established. Remove the decayed wood and replace it with sound material while correcting the condition that led to the decayed wood in the first place. These ants will construct galleries from the rotting wood within which they feed. Do not confuse these galleries with the more linear tube-like tunnels made by subterranean termites.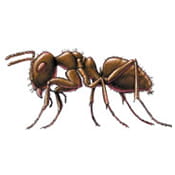 Treatment
Treatment starts with a thorough inspection for the primary source of the infestation and any conducive conditions. After that recommendations are made for good sanitation practices and/or elimination of conducive conditions. Then a pesticide application maybe preformed when necessary.
Why Wait?
Let Us Rid Your Home of Pests Today!
"Over the years I've used this service repeatedly for pest control services. They usually send a text informing me the day before of a pest service, but I always call them directly to schedule a specific time so I can have my garage and shed open, and ensure that my home's crawl space is also inspected. My rodent problem is resolved and I encourage others to use Pest Stop as this company provides exceptional service at a reasonable price."
PestStop Pest Control:
Serving South King County to Portland
Though our headquarters are in Olympia, our technicians reside in and dispatch from counties across a wide area from South King County in Washington down to Portland, Oregon. This makes it easier to serve you quickly and effectively.
1459 Old Israel Rd
Olympia, WA 98512
Our Service Area
Request Your
Free Estimate
Call us at

360-506-6033

or fill out the form below.