Your Pest Management Professionals
Introducing Billy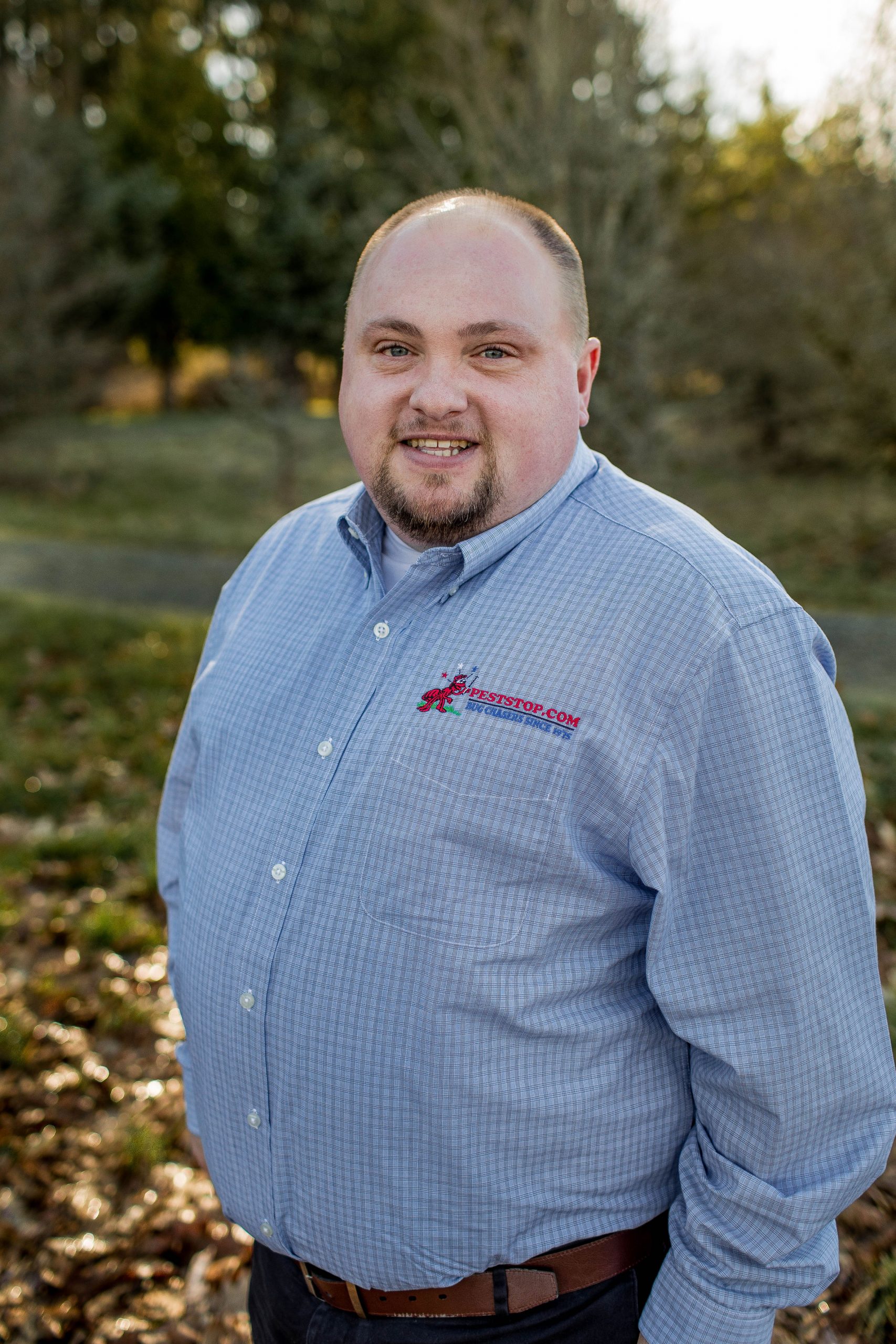 Billy Olesen is not just a man of vision, but also a man of action. As Operations Manager and fourth generation Pest Control Specialist here at Pest Stop, Billy proudly lets his curiosity and passion drive his activities.
Billy spends hours researching best practices and makes every effort to grow his understanding of this industry. He is an Associate Certified Entomologist (an insect specialist) and holds his Pest Control license in Washington, Oregon, and with the EPA. He has extensive knowledge of insects and Integrated Pest Management.
Billy is actively involved in various pest management associations:
He is currently the Vice President of the Washington State Pest Management Association. Billy and his associates work to "improve the image and reputation of [the pest industry] while protecting its future."
He is the National Pest Management Association's Vice-State Political Action Representative (Vice SPAR) for Washington State.
He is on Washington State University's Pest Management Professional Advisory Committee.
He is a chairperson in the Kitsap County Noxious Weed Control Board.
He has served on the PestVets Committee to recruit and assist veterans who may be interested or already work in the pest control industry. The Diversity Committee works to make the industry a better place by encouraging a more diverse industry.
He graduated from the National Pest Management Association first ever Executive Leadership Program (ELP.)
Billy has been a part of various other committees and frequently gives talks about pest control related topics to community groups and homeowners associations. Billy works hard to make sure that his knowledge base is current and that he has every resource available to lead Pest Stop in an efficient and effective manner. He continues to educate the public on the best ways to address pests. He strives to continue the legacy that was established in 1975.
Fun Fact: Billy has his drone pilot license.
To have your pest control questions answered and learn more about Pest Stop's legacy, call (360) 506-6033.
Why Choose PestStop?
Here Are 4 Reasons:
In the Pest Control Industry Since 1975

Up to Date With the Latest Technology

Providing Quick & Effective Solutions

Thousands of Satisfied Customers Serviced
"Over the years I've used this service repeatedly for pest control services. They usually send a text informing me the day before of a pest service, but I always call them directly to schedule a specific time so I can have my garage and shed open, and ensure that my home's crawl space is also inspected. My rodent problem is resolved and I encourage others to use Pest Stop as this company provides exceptional service at a reasonable price."
PestStop Pest Control:
Serving South King County to Portland
Though our headquarters are in Olympia, our technicians reside in and dispatch from counties across a wide area from South King County in Washington down to Portland, Oregon. This makes it easier to serve you quickly and effectively.
1459 Old Israel Rd
Olympia, WA 98512
Our Service Area
Request Your
Free Estimate
Call us at

360-506-6033

or fill out the form below.